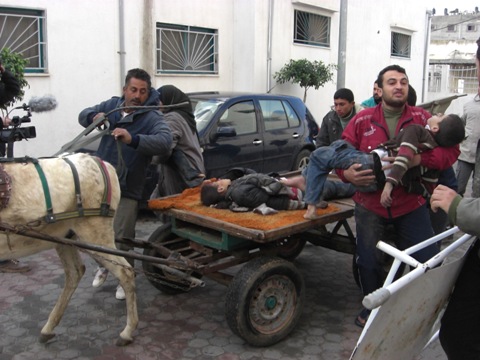 The New Year just stepped in with the same omens of death and bleakness as the old one, increasing its destructive power tenfold. I've never seen so many bombs drop all around my house, in front of the port. An explosion just 100 metres away violently shook the seven-storey building, making it rock like a crazed pendulum. For an instant we dreaded it would crumble down, while all the window panes exploded. It was a major moment of panic in which I prayed and clung to the unlikely illusion that our building had been built using earthquake-proof criteria, even though Gaza is perched upon a strip of land that never quakes. Around here earthquakes are of the unnatural kind, and they're called Israel. That's probably why Western leaders are so compassionate and charitable, ever ready to put one hand on their heart and the other to reach out to their wallet (for the purpose of some personal propaganda) when it's a matter of spending some words and a little cash in aid of the victims of a natural catastrophe. On the contrary, when it comes to an unnatural catastrophe, painstakingly planned in every detail in Tel Aviv months before, they shield their eyes with one hand and close their ears with the other, seemingly ignoring the heart-rending cries of pain from innocent bodies being torn apart without pity.
They ignore the constant and progressive destruction of mosques (8 so far), schools, universities, hospitals, civilian buildings by the tens.
I continue in my desperate search for those friends who no longer pick up their phone. I heard from Ahmed at his place, one of the few houses still standing in the centre of the Tal Alhawa neighbourhood in Gaza city, now surrounded by a post-apocalyptic scenario so reminiscent of the Shiite neighbourhood in Beirut after the bombs rained down upon it in 2006, bombs made and produced in the same part of the world as those falling on our heads now. Ahmed is OK and so are his relatives, though his mother had a brush with death last Saturday. She teaches at the United Nations' Balquees school, and on that day she stayed on in the classroom for a little longer than usual, which ended up being what saved her life. Many of her students, waiting at the bus stop, were buried by the rubble produced after an explosion. A bomb dropped onto Ahmed's car, a pistachio-green economy car, the very same with which he roamed the city the previous evening in order to find some bread in a city where flour is being sold at the price of gold. In the end, I found Rafiq on the phone, and his cavernous voice seemed to reach me from a deep well, a pit of desperation and sadness in having just heard of the death of three of his best friends during the attack at the port.
In one of the last cafés still operating in Gaza, which provides caffeine and an internet connection, with a bitter smile I showed a couple of friends the news of "one victim and 382 wounded" from the screen of my laptop. This isn't the estimate of the victims produced by the Qassam "rockets" shot by Israel yesterday, which thankfully didn't harmed anyone, but the aftermath of the "massacre" by our New Year's Eve firework displays in Italy. I told my friends that Hamas are wet behind the ears if they think they can compete with Israel using those homemade toys of theirs. They ought to go to school in Naples and learn to produce truly lethal rockets, where far more explosive fireworks than the Gazan qassams are assembled in the Neapolitan "Spanish Quarter".
Let's get this straight: as a pacifist and non-violent person I totally abhor any form of Palestinian attack against Israel, but out here we're sick of hearing that tired old adage according to which this massacre of civilians was Israel's answer to the Palestinians launching their modest, homemade "rockets". For precision's sake, from 2002 to the present day the qassam rockets against Israel have produced 18 dead, while only last Saturday, in just a couple of hours we counted more than 250 civilians dead in the hospitals.
At the café I enquire about the truce proposed by the European Union and rejected by Israel, which is obviously still in possession of vast supplies of war equipment it wants to use up from its military warehouses. They all shake their heads grimly. Has there ever really been a truce before this fierce attack on an unarmed population?
In November alone, the Israeli Army killed a good 17 Palestinians (43 in total from the start of the "truce"). And even before that, the criminal siege of Gaza produced more than two hundred victims among the Palestinian sick. Sick, and with their papers in order, waiting to find hospitality in foreign hospitals, but prevented from going anywhere due to the borders being sealed off. The criminal siege of Israel had destroyed the already shaky economy, producing a rate of more than 60% unemployed, forcing 80% of Palestinian families to live off humanitarian aid. This is aid that has trickled through with huge difficulty, crossing the iron curtain erected by Israel around the largest open-aid prison in the world: Gaza. We were then forced to evacuate that café, and fast. The umpteenth threatening phone call had arrived: the café would have been bombed within a few minutes.
The crimes against humanity that Israel is soiling its hands with in these hours know no limits or terms of comparison. Yesterday at the Jabilia refugee camp an F16 plane dropped some missiles onto an ambulance. Among the dead were the doctor, Ihab El Madhoun, and his trusted nurse Mohamed abu Hasira. For this reason, today we internationals of the ISM have planned a press conference before the cameras of the most popular Palestinian television stations. We inform Israel that we'll leap onto those ambulances to lend a hand in giving relief, hoping our presence as internationals may act as a slight deterrent against these bloody crimes. Even if Israel shows no hesitation in massacring civilians these days, if and when it may ever have had any hesitations in doing so.
Sometimes, our talk gets pretty bleak, and it's likely that after this massive and terrifying attack, some of us will have to go out there and do a final count of the dramatic toll of the dead and missing.
We try not to think about it now and look ahead.
If the "civilised" world is mute and shamefully turns its head away from this tragedy, we who still consider ourselves human, we who still considering ourselves members of a sole family, the whole of humanity, will do everything in our power to stop this haemorrhage. No time to loose, it's an emergency!
Stay human
Il Manifesto link: http://www.ilmanifesto.it/il-manifesto/ricerca-nel-manifesto/vedi/nocache/1/numero/20090102/pagina/05/pezzo/238487/?tx_manigiornale_pi1%5BshowStringa%5D=nuovo%2Banno&cHash=8e3bce50f9
permalink: http://guerrillaradio.iobloggo.com/archive.php?eid=1758
by Vittorio Arrigoni for Il Manifesto
---