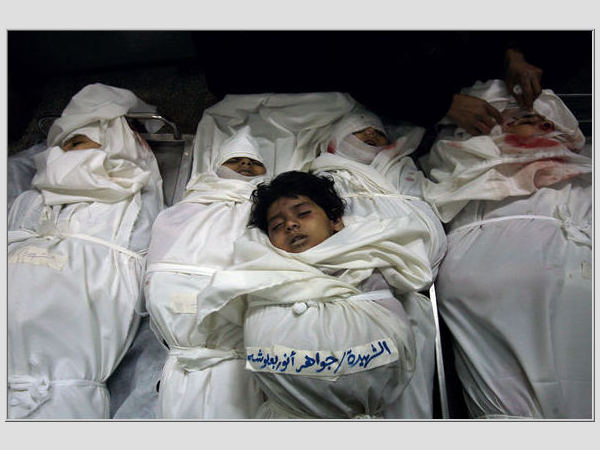 6:05 PM, Marna house, Gaza city
An acrid smell of sulphur fills the air while the sky is shaken by earth-shattering rumbles. My ears are now deaf to the explosions while my eyes are all out of tears from all the corpses. I stand in front of Al Shifa hospital, Gaza's main hospital, and we've just received Israel's terrible threat that they intend to bomb its under construction wing. This would be nothing new, as Wea'm hospital was bombed just yesterday, along with a medicine warehouse in Rafah, the Islamic university, which was also destroyed, along with various mosques scattered along the Strip.

Not to mention many CIVILIAN structures. Apparently, they can no longer find "sensible" targets, the air force and the navy is killing time targeting places of worship, schools and hospitals. It's another 9/11 every single hour, every minute around here, and tomorrow is always a new day of mourning, always identical to the previous one. You notice the helicopters and airplanes constantly overhead, you see a flash, but you're already a goner and it's too late to take flight. There are no bunkers against the bombs in the Strip and no place is really safe. I can't contact my friends in Rafah, not even those who live North of Gaza City, hopefully because the phone lines are overloaded. Hopefully. I haven't slept in 60 hours, and same goes for every Gazan.

Yesterday three other ISM members and I spent the entire night at the al Awda hospital in the Jabalia refugee camp. We were there because we were fearing the much dreaded ground raid that never happened. But the Israeli tanks are posted all along the Strip's border, and their corpse-hungry creaks will apparently form a funeral march tonight. Around 11:30 PM a bomb fell about 800 metres from the hospital, the shock wave blow several windows apart, injuring the injured.

An ambulance arrived, then they blew up a mosque, thankfully empty at that time. Unfortunately, though it actually has nothing to do with bad luck but with the criminal and terroristic will to massacre civilians, the Israeli bomb has also struck the building adjacent to the mosque, which was also destroyed. We watched as the tiny bodies of six little sisters were pulled out of the rubble – five are dead, one is in life-threatening conditions. They laid the little girls out on the blackened asphalt, and they looked like broken dolls, disposed of as they were no longer usable. This wasn't a mistake, but a voluntary, and cynical horror.

We're at a toll of 320 dead, more than a thousand wounded and, according to a doctor at Shifa, 60% of these are destined to die in the next few hours or days, after a prolonged agony.There are many missing, and for the last two days despairing wives have been searching for their husbands or children in hospitals, often to no avail. The morgue is a macabre spectacle. A nurse told me that after hours of searching, a Palestinian woman recognised her husband from his amputated hand. All that's left of her husband, and the wedding band on her finger from the eternal love they had sworn one another. Out of a house inhabited by two families, very little has remained of their bodies. They showed their relatives half of one bust and three legs.

Right now, one of our Free Gaza Movement boats is leaving the port in Larnaca, Cyprus. I spoke to my friends on board. They've heroically amassed medicine and steeped it everywhere in the boat. It should reach the port of Gaza tomorrow around 8:00 AM. Here's to hoping that the port will still exist after another night of endless bombing. I'll be in touch with them for the entire night.

Please, someone stop this nightmare. Choosing to remain silent means somehow lending support to the genocide unfolding right now. Shout out your indignation, in every capital of the "civilised" world, in every city, in every square, covering our own screams of pain and terror. A slice of humanity is dying in pitiful in a useless listening.
---