Dignity Leaves on Emergency Mission
The Newsletter of the Free Gaza Movement 4/2008, Dec. 29
More than two-hundred, maybe three-hundred people have died in Gaza under the shelling of Israeli military jets. Hundreds are injured. This Sunday, the killing activities have continued. The wall between Gaza and Egypt has now been torn down by Gazans, according to international Human Rights observers witnessing and documenting the Israeli attacks on Gaza. Millions of people in the world are shocked, hurt, and angry about this "Guernica in Gaza", as Vik calls it (see below). In Guernica, the civil population was punished for its democratic elections. The British Committee for the Universities of Palestine (BRICUP) also remembers this incident: "When Nazi planes firebombed the Basque town of Guernica in 1937, to advance General Franco's revolt against the democratically elected Republican government, Britain, France and other European powers continued to refuse military and political support to the Republic, and Franco and his Nazi allies prevailed." (Source: http://www.bricup.org.uk/GazaEmergency.html). Concerning Gaza, there are similar reactions from western powers. Only the citizens in the world, they are not as cold-hearted, and there are demonstrations and rallies going on all over the globe. Search the internet for Gaza demonstrations in your country. The Free Gaza Movement sends an emergency boat to Gaza on Monday, with three tons of supplies. - Also in this issue: Ewa's eyewitness report, a short video on the general situation in Gaza, news about Neta, a calendar date and the quote of the week. The Free Gaza Movement wishes all readers a better New Year. See you in 2009!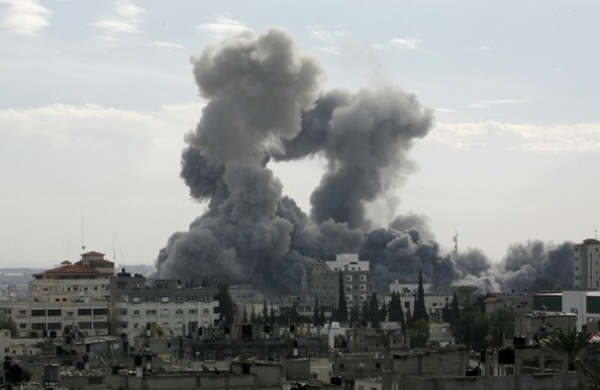 "Shelling of Gaza", copyright unknown
Dignity Leaves for Gaza on Emergency Mission of Mercy
The Free Gaza Movement will hold a press conference at 16:30, Monday, December 29 at the port in Larnaca. The organization is sending in the Dignity on an emergency mission of mercy to Gaza loaded with three to four tons of urgently needed medical supplies. On board are four physicians, including Dr. Elena Theoharous, a surgeon and Member of Parliament in Cyprus. Also going are The Hon. Cynthia McKinney, former U.S. Congresswoman and Green Party presidential candidate, and Sami al-Hajj, an Al Jazeera reporter and former detainee at Guantanamo. Dr Khaled from the Shifa hospital ICU in Gaza City told us on Saturday that the majority of cases are critical shrapnel wounds from Israeli gunboats and helicopters, with an approximate 80% who will not survive. The medical supply list includes bandages, splints and rubber gloves, items that any medical community should have access to, but, because of Israel's policies of collective punishment, these supplies are not available. Eliza Ernshire, one of the Free Gaza organizers says, "We have calls for surgeons willing to go into Gaza and work there throughout this crisis. The doctors inside are exhausted and unable to cope with the number of wounded. We will do our best to send in the Dignity as often as we can over the next few weeks, bringing in physicians and medical supplies. - Contact info: http://www.freegaza.org/index.php?module=latest_news&id=e060e9316ba931b0a86fe47234d777f3&offset= =
Gaza today: "This is only the beginning"
By Ewa Jasiewicz (Gaza Project Co-coordinator for the Free Gaza Movement). As I write this, Israeli jets are bombing the areas of Zeitoun and Rimal in central Gaza City. The family I am staying with has moved into the internal corridor of their home to shelter from the bombing. The windows nearly blew out just five minutes ago as a massive explosion rocked the house. Apache's are hovering above us, whilst F16s sear overhead. UN radio reports say one blast was a target close to the main gate of Al Shifa hospital - Gaza and Palestine's largest medical facility. Another was a plastics factory. More bombs continue to pound the Strip. - Read the whole article here: http://www.freegaza.org/index.php?module=latest_news&id=5f36cb2382cb6e2b413b88331d2223f1&offset==
Guernica in Gaza
By Vittorio Arrigoni (Free Gaza Activist) for Il Manifesto. My apartment in Gaza faces the sea, a panoramic view that's always done wonders for my mood, often challenged by all the misery that a life under siege can bring. That is, before this morning, when all hell broke loose at my window. This morning in Gaza we woke up to the sound of dropping bombs, and many of them have fallen a few hundred metres from my home. Some of my friends fell under them. So far the death toll is at 210, but it's bound to rise dramatically. It's an unprecedented bloodshed. They've razed the port facing my home to the ground, and pulverized the police stations. I'm told that the Western media have assimilated and are repeating the press releases issued by the Israeli military off by heart, according to which the attacks targeted Hamas's terrorist dens only, with surgical precision. In actual fact, visiting the city's main hospital, Al Shifa, staring at a chaotic gathering of bodies laid out in its courtyard, we mostly saw civilians among those awaiting medication, lying alongside others awaiting rightful burial. Can you picture Gaza? - Read on: http://www.freegaza.org/index.php?module=latest_news&id=799d915eae0777fec758d9c48d9b894b&offset=
Gaza in Crisis
"Gaza in Crisis" is a 5-minute-video at http://au.youtube.com/watch?v=DSzn7XLLM7c, created by Sonja Karkar (http://www.australiansforpalestine.com) as a not-for-profit initiative to highlight the tragedy of Gaza at a time when Christians are celebrating their most festive religious holiday - Christmas. The video describes in pictures and words the shocking details of Israel's deliberate ravaging of Palestinian life and society in Gaza. Its purpose is to call attention to the plight of a people under siege, which so far has been chillingly ignored by governments and the world media unwilling to call Israel to account. The video was created in December 2008 using images captured by various courageous photographers on the ground in Gaza, and the haunting sounds of Sada (Echo), composed and played on the oud by Ahmad Al-Khatib. Speak up to end the siege of Gaza and the occupation of Palestine. Demand an end to the crimes Israel is committing against the Palestinians. Protest by writing to your country's politicians, the media, the Israeli embassies and consulates, companies that trade with Israel. Join a Palestinian solidarity group to learn more about the issues and to give momentum to a growing movement worldwide that sees a just peace for the Palestinians. Also see the video "Gaza and the World: So this is Christmas?" at http://au.youtube.com/watch?v=E7C1_a2-9y8
Neta Golan Free
Neta Golan was released on December 24 after her second appearance in court and is free now. She is an Israeli citizen and co-founder of the International Solidarity Movement (ISM). Israeli police arrested Neta Golan while she was attempting to leave the Gaza Strip through the Beit Hanoun (Erez) crossing on December 22. She was one of the 17 activists that sailed into Gaza on December 20th on the S.S. Dignity, the fifth international solidarity boat of the Free Gaza Movement to break Israel's siege of the Gaza Strip. Her lawyer, Adnan Alladin, stated that, "Ms Golan's actions in no way constitute a crime. Her actions in entering Gaza were acts of necessity based on the international law and a rejection of the policies of collective punishment pursued by the Israeli Government." Neta Golan is available for interviews on her experiences both in Gaza and her arrest by Israeli police. Contact: Neta Golan - 0547911642 or 0598184169
Calendar January 8: The musical group Helm (http://www.helmmusic.com)) is part of the group 14 Friends of Palestine and plays a benefit concert for the Free Gaza Movement in London in the Darbucka World Music Bar, http://www.darbucka.com
Quote of the Week
"It is bitterly ironic that Western Christians celebrate today the birth of Jesus in Bethlehem more than 2,000 years ago while the inhabitants of this West Bank town and their compatriots continue to suffer a crushing Israeli occupation supported by Western governments." - Michael Jansen, Jordan Times, Dec. 25, http://admin.jordantimes.com/index.php?news=13054
The Newsletter of the Free Gaza Movement and the website http://www.freegaza.org present news and background info on the nonviolent Free Gaza Movement and their action to break the siege of Gaza and Palestine. This issue was edited by Anis Hamadeh in Mainz, anis at anis-online.de. - German translation at http://www.anis-online.de/2/freegaza/newsletter/04.htm#dt ; Subscription over the "Friends of Gaza" Newslist at https://lists.riseup.net/www/subscribe/gazafriends, contact to Free Gaza: friendsofgaza at gmail.com. Updated Free Gaza media clippings at http://www.freegaza.org/uploads/media/free_gaza_in_the_media.pdf. For general Palestine daily news visit http://www.theheadlines.org
---