The Seventh Breaking of the Siege
The Spirit of Humanity
Read the testimonies from Israeli Jail.
Immediately following the ramming of the Dignity, the Free Gaza Movement secured a new boat, the SPIRIT OF HUMANITY, and attempted another emergency mission to besieged Gaza. Aboard the ship were 36 passengers and crew, representing 17 different nations. They included doctors, journalists, human rights workers, and five European parliamentarians representing Belgium, Greece, Italy, and Spain. The mercy ship also carried tons of desperately needed medical supplies  meant for hospitals in the Gaza Strip. The ship was forced to turn back by the Israeli navy, which threatened to fire upon the unarmed civilians on board if they continued toward Gaza.

Fouad Ahidar, a member of the Belgian Parliament who sailed aboard the SPIRIT OF HUMANITY, stated that, "I have five children that [were] very worried about me, but I told them: 'you can sit on your couch and watch these atrocities on the television, or you can choose to take action to make them stop.'"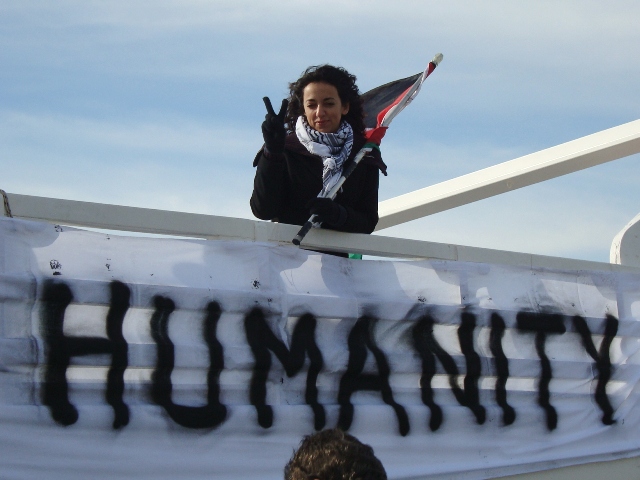 During the massacre, the United Nations failed to protect the Palestinian civilian population from Israel's massive violations of international humanitarian law. Israel has closed off Gaza from the international community and demanded that all foreigners leave. But Huwaida Arraf, an organizer with the Free Gaza Movement, stated that, "We cannot just sit by and wait for Israel to decide to stop the killing and open the borders for relief workers to pick up the pieces. We are coming in. There is an urgent need for this mission as Palestinian civilians in Gaza are being terrorized and slaughtered by Israel, and access to humanitarian relief denied to them. When states and the international bodies responsible for taking action to stop such atrocities chose to be impotent, then we--the citizens of the world--must act. Our common humanity demands nothing less."